Implantica's Solution, e-InVivo™
Implantica's e-InVivo™ is subject to further development and approval process.
As demand increases for proactively enhancing one's health by monitoring vital parameters, our wireless energized platform is designed to provide an optimal tool for measuring a multitude of health parameters and providing diagnostic information to individuals. Our implant, e-InVivo™, is expected to allow patients to receive continuous monitoring and early detection of diseases and thereby better treatment of life-threatening and life-deteriorative conditions. e-InVivo™ is designed to measure a number of important health parameters and provide feedback to patients and their caregivers without the need to visit the hospital or healthcare facility.
e-InVivo™ is designed to continuously monitor a multitude of health parameters from up to 15 sensors inside the body.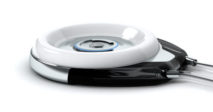 e-InVivo™ is designed to be a powerful miniaturized control unit with a micro-chip that will be capable of simultaneously collecting, processing and sending information from a multitude of sources measuring important health parameters. Mechanical, chemical, molecular or biological tests may be performed 24/7 all year long over the course of many years.
The information collected and processed by the control unit is designed to be transferred wirelessly to an external device, such as a smart phone, laptop or tablet enabling patients to personally monitor their own health status. It should also be possible to directly transfer the information to healthcare providers and their databases via Implantica's hospital station, MediMaster™, which in turn should be able to generate automatic responses or alarms.
e-InVivo™ is designed to send the information to external devices and caregiver, and should generate automatic responses or alarms.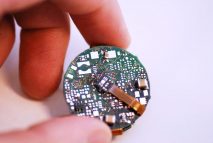 e-InVivo™ is designed to be available either as a supplement to our other smart medical implant products or as a stand-alone implant. An example where the e-InVivo™ technology may be used in combination with one of Implantica's other products is AneurysmControl™. With this product the aneurysm is expected to be monitored continuously, and a potential growth of the aneurysm should both be detected and prevented at an early stage. In combination with e-InVivo™, the treatment with AneurysmControl™ is predicted to become even more efficient, since patients, caregivers and trained relatives can get real time information of the progression of the aneurysm.
Benefits of e-InVivo™
Early detection, easy monitoring
e-InVivo™ is designed to allow early detection, easy monitoring and thereby better treatment of many life-threatening and life-deteriorative conditions.
Data collected inside the body and transferred to external devices or caregivers
While many others focus on collecting data from outside the body, Implantica's implant e-InVivo™ has the potential to collect information from inside the body and should safely communicate with a user-friendly interface the collected and analyzed data to external devices or to a healthcare professional/caregiver.
Multiple sensors for manifold feedback
Has the potential to simultaneously collect, process and send information from a multitude of sources.
Remote-controlled, wirelessly adjusted and recharged
Once implanted in the body, e-InVivo™ is designed to be charged, controlled and adjusted wirelessly through intact skin thereby reducing or eliminating the need for additional surgeries. If desired, it should potentially have the possibility to be in place in the body for the rest of a patient's life.
Field Description
The WHO defines eHealth as "…the use of information and communication technologies (ICT) for health." In general, the demand for self-monitoring health devices is fast growing. We believe that eHealth has the potential to revolutionize how, when and where healthcare will be implemented. In order to improve treatment results and reach a more effective use of the limited financial and personnel resources within the healthcare sector worldwide, healthcare systems will increasingly focus on preventive care, treatment outside the hospital setting as well as the early detection and treatment of diseases. Everyone will for example aim at minimizing the need for extensive, complicated and time-consuming surgeries that drain resources. Products and services improving early detection, diagnosis and treatment of diseases will have a large market potential.
Health awareness among an increasing portion of the world population, together with the advent of many new tools and applications to monitor vital parameters create more knowledgeable patients who take an increasingly active part in the choice and implementation of their treatment. We expect that treatment will to a larger extent be carried out closer to the patient, with caregivers having the ability to remotely monitor patients' health conditions.
Existing Treatments
While Implantica's focused field is eHealth inside the body, the self-monitoring healthcare devices in existence today are concentrated on monitoring and collecting data from outside the body. The most prevalent include wearable devices such as bands or watches for the wrist or belts to be worn across the chest to measure, for example pulse rate, EKG signals, temperature and calories. Apps for the phone can be downloaded to measure certain parameters such as movement like steps taken, sleep intensity, blood pressure, respiratory and heart rate and provide vision and hearing tests. A blood glucose monitoring device is an example of a slightly more invasive procedure, where a needle is inserted under the skin to measure glucose levels in the tissue fluid.