Wireless energy – a cornerstone in bringing advanced technology into the body
---
Implantica has developed an innovative patented technology platform to wirelessly power and control advanced technology inside the body, including our implanted eHealth platform and our active smart medical implants. Energizing implants wirelessly through intact skin is designed to be performed in a safe and efficient manner. This platform is designed to be integrated in advanced technology inside the body to power monitoring of body parameters and to power and control a large series of different, new smart remote-controlled medical implants.
The pacemaker was one of the first active implants using electrical energy, which has had tremendous success. This success has been partly enabled by the very low current consumption needed for electrical heart muscle stimulation where a small battery is able to supply energy for many years. The global pacemaker market size is expected to reach USD 10.3 billion by 2025 (Market Share Analysis Report, PR Newswire, 2018).
Active implants that need more current, however, have not had the same success. The main obstacle has been the fact that the high level of energy required makes the batteries run out of power too quickly. These implants normally need a thousand times more current to, for example, run small motors, pumps, manage complex stimulation systems, manage data input from different sensors and to replace different body functions.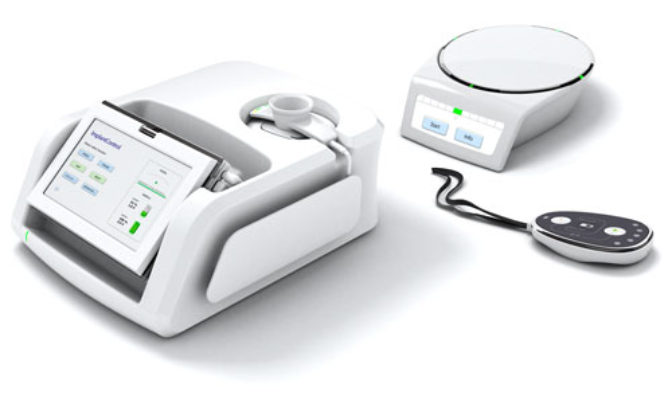 Today, after a decade of development, Implantica has the solution. With advanced wireless energizing technology inside the body, we make a multitude of smart medical implants possible. The advanced system is designed to supply energy wirelessly, provide wireless feedback, and enable full control of the implant.
High energy consumption will no longer be an issue. A large number of filed patents ensure a wide ranging intellectual property portfolio covering our innovative system and products. The platform will go through the CE certification process with each individual smart medical implant.
Potential to create many new ground-breaking treatment solutions
Using our wireless energy platform, we have the potential to create solutions for treatment and monitoring that previously were seen as unachievable. The treatment of many diseases, such as urinary incontinence, obesity and erectile dysfunction, will be transformed and Implantica aims to drive the market for improved and new active smart implants.
Wireless control and exchange of data
Our miniaturized platform is designed to enable easy and safe communication with implanted devices, allowing for non-invasive postoperative adjustments and continuous data feeds, with greater quality and reliability of data reporting directly to both the patient and Caregiver.
Remote controlled implants
The platform is designed to allow the physician to be provided with the tools for wireless control and the patient to be supplied with a remote-control facility for domestic use combined with a push bottom under the skin. The remote control is designed to allow patients to conduct minor adjustments and adjust the operational status of the implant.
Safe energy transfer and communication to devices
Our new concept of wireless energy transfer enables safe charging from outside of the body to an implanted rechargeable battery inside the body. Major issues relating to safety of the patient have been solved, and a multitude of inventions covers backup systems should the electronics fail.
Controlled energy balance
One key issue that has been solved is that the temperature inside the body should never increase more than 3°C. If the temperature goes beyond 42°C, body tissue could be damaged. Therefore, our system is designed to have total control over the amount of energy transmitted wirelessly from outside the body, as well as the amount of energy used by the implant. This control of the balance between energy received inside the body and the amount of energy used by the implant ensures that no extra energy is lost to heat. By working with a continuous derivative system, the speed of any change of the energy balance is monitored, enabling a rapid correction of any imbalance. All of these factors are covered by our extensive patent protection.